Combo Side by Side & Canyon Whitewater Run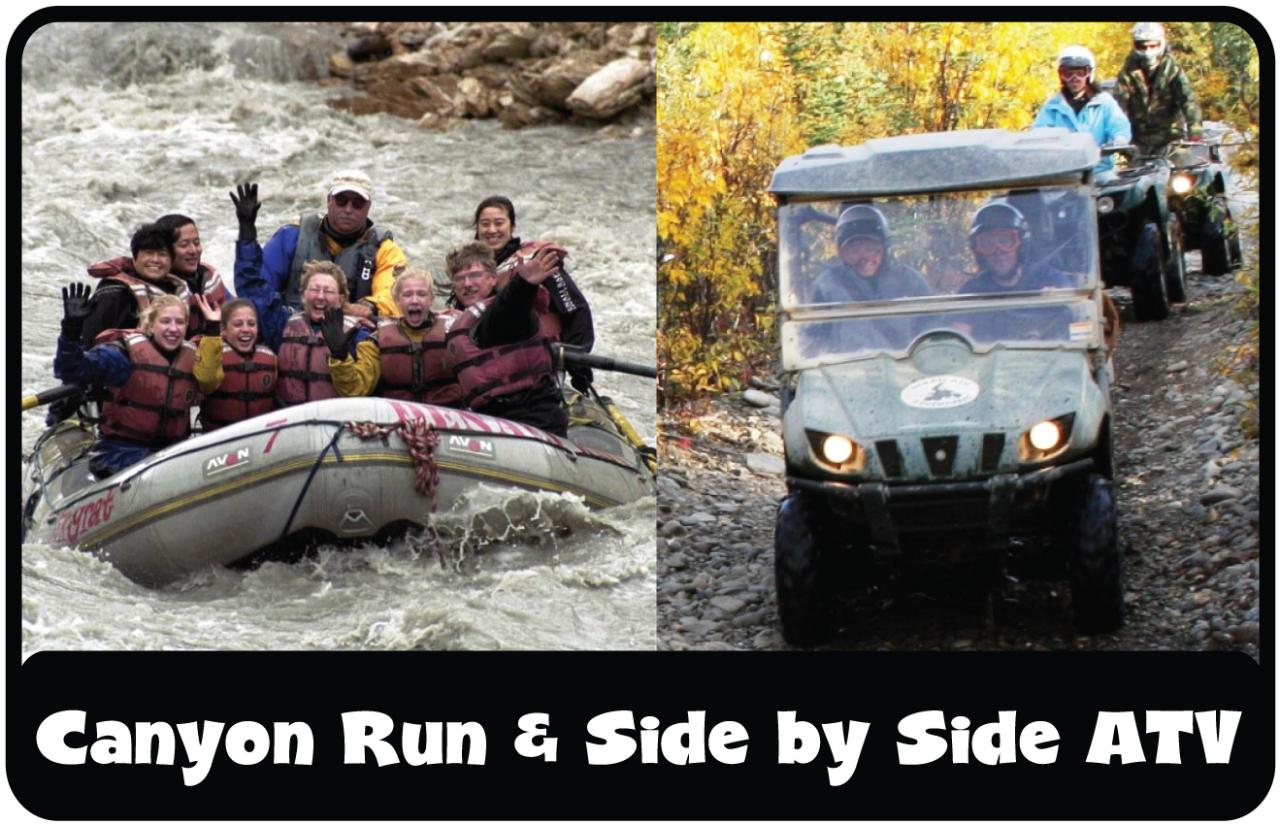 Duration: 6 Hours (approx.)
Location: Denali National Park, Alaska
Product code: SATVC
Buy Two Activities and Save! This combo price is already discounted, no other discounts can be applied.
This is a booking for two total for both $387.00

Call For Availability, trips are filling up fast!

Rafting the Canyon Run

Class III and Class IV.
Oar Rafts (Recommended age12 or older)

Paddle Rafts (12 & older requires 5 paddlers)
**WARNING the dry suits do have latex*
Denali Wilderness ATV Adventure
: Get ready for some adventure! Whether a novice or expert ATVer, this trip is a memorable experience in the Alaskan wilderness on your own automatic 2 passenger Multi Rider ATV one rider one driver (must purchase 2 tickets)! Riding along trails surrounded by Denali National Park at speeds up to 30 mph, your adventure includes breathtaking 360° overlook stops with views of the Alaska Range, Otto Lake and the Healy Valley. Navigate through rocky creek beds and even spend time splashing through the water (weather dependent). Knowledgeable guides lead you through the rugged terrain and provide opportunities for photography. Wildlife is abundant – watch out for moose on the trail! Total tour covers about 10 miles with 1½ hours on the trails.
Plan to be rafting for 3 hours and 3 hours for ATV tour. ***MUST BE AT LEAST 16 YEARS OLD WITH PARENTAL CONSENT TO DRIVE WITH VALID DRIVERS LICENSE***Booking and Cancellation Policy:
This combo trip requires payment in full at time of reservation. No other discounts can be applied. Cancellations after time of booking incurs a 10% cancellation fee. There will be no refund available for trips cancel within seven days of the trip departure time. This offer may not be combined with any other offer.
Available combinations-BE AWARE of the dates, the system will let you book dates that are not available.
8:00 AM ATV & 3:00 PM Canyon Whitewater Raft (May 22nd to Sept 8th)
8:00 AM ATV & 6:30 PM Canyon Whitewater (May 22nd to August 23)
8:00 AM ATV & 5:30 PM Canyon Whitewater (August 24th to Sept 3rd)
1:00 PM ATV & 7:30 AM Canyon Whitewater (May 22nd to Sept 8th)
1:00 PM ATV & 6:30 PM Canyon Whitewater (May 22nd to August 23)
1:00 PM ATV & 5:30 PM Canyon Whitewater (August 24th to Sept 3rd)
3:00 PM ATV & 7:30 AM Canyon Whitewater (May 22nd to Sept 8th)3)
3:00 PM ATV & 10:00 AM Canyon Whitewater Raft (June 5th to Sept 3rd)
3:00 PM ATV & 6:30 PM Canyon Whitewater (May 22nd to August 23)
3:00 PM ATV & 5:30 PM Canyon Whitewater (August 24th to Sept 3rd)
5:00 PM ATV & 7:30 AM Canyon Whitewater (May 22nd to Sept 8th)
5:00 PM ATV & 10:00 AM Canyon Whitewater Raft (June 5th to Sept 3rd)
7:00 PM ATV & 7:30 AM Canyon Whitewater (May 22th to Sept 8th)
7:00 PM ATV & 10:00 AM Canyon Whitewater Raft (June 5th to Sept 3rd)